Foreign Affairs Committee
Show me:
Gibraltar eleventh report report, together with formal minutes and written evidence
House of Commons papers 2002-03 1024
Sorry, this book is currently not available
Format:

Corporate Author:

Great Britain Parliament House of Commons Foreign Affairs Committee

Author:

Anderson Donald chairman

Publisher:

TSO (The Stationery Office)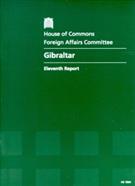 This is the Committee's fifth substantive report in four years on the subject of Gibraltar, and it notes that this level of interest has been justified by recent developments. It finds that the Government has misjudged and mishandled the situation, particularly in its decision to negotiate with Spain a deal to share sovereignty over the territory, despite the firm opposition of the Government and people of Gibraltar. It judges this proposal as unacceptable and recommends that the Foreign & Commonwealth Office withdraw it, in favour of pursuing relations with Spain that are similar to those between any EU member states and their dependent territories. The Government of Gibraltar should be included in any further talks over its future status, and the British Government should set out the likely implications of the draft EU Constitution. It should also establish how it intends to represent the interests of Gibraltar at the forthcoming Inter-Governmental Conference. The Committee also calls for issues such as the restoration of maritime links between Spain and Gibraltar and the Spanish refusal to co-operate with NATO use of Gibraltar's military bases be addressed.