Defence Committee
Show me:
A new chapter to the strategic defence review Government response to the Committees sixth report of session 2002-03 third special report of session 2002-03
House of Commons papers 2002-03 975
Format:

Corporate Author:

Great Britain Parliament House of Commons Defence Committee

Author:

George Bruce chairman

Publisher:

TSO (The Stationery Office)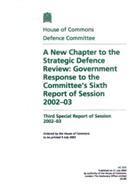 This report details the Government's reply to the Committee's 6th report (HCP 93-I, session 2002-03; ISBN 021501071X) on the Government's proposed changes to the UK's defence and security policy ("The Strategic Defence Review: a new chapter", Cm. 5566, Vol. 1; ISBN 0101556624) in the light of recent developments in international terrorism. The Committee's report had examined how far the 'New Chapter' has met its objectives and whether it was an appropriate response to security interests and defence needs.