Environmental Audit Committee
Show me:
Energy White Paper - empowering change? eighth report of session 2002-03 report, together with formal minutes, oral and written evidence
House of Commons papers 2002-03 618
Format:

Corporate Author:

Great Britain Parliament House of Commons Environmental Audit Committee

Author:

Horam John chairman

Publisher:

TSO (The Stationery Office)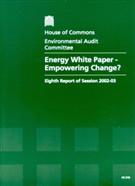 The Energy White Paper ("Our energy future: creating a low carbon economy", Cm 5761; ISBN 0101576129), published in February 2003, set out the Government's programme for a sustainable energy policy by reducing dependence on fossil fuels and increasing the amount of energy generated from renewable resources. The Committee's report examines the extent to which this policy programme meets the recommendations of key previous reports such as those of the Committee itself, the Royal Commission for Environmental Pollution (RCEP) and the Cabinet Office Performance and Innovation Unit (PIU). Findings of the Committee include support for the energy white paper's acknowledgement of environmental objectives as priorities, which is found to represent a major shift in approach to a UK energy strategy. The long-term specific commitment to a 60 per cent reduction in carbon emissions by 2050 is judged to set a precedent for other nations regarding the need to address the challenge of global warming, although greater influence could be exerted on the need for an international framework for reducing carbon emissions. However, the Committee also finds that the paper is weak on specific measures and an implementation plan needs to be published as soon as possible both for energy efficiency and renewables.