Defence Committee
Show me:
Defence procurement eighth report of session 2002-03 report, together with formal minutes, oral and written evidence
House of Commons papers 2002-03 694
Sorry, this book is currently not available
Format:

Corporate Author:

Great Britain Parliament House of Commons Defence Committee

Author:

George Bruce chairman

Publisher:

TSO (The Stationery Office)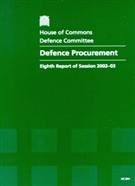 The Committee welcomes the Defence Industrial Policy, published in October 2002, which set out the factors the MoD will take into account when making equipment procurement decisions. Competition remains the bedrock of the policy, and achieves value for money, but there are circumstances where competition will not be used or curtailed. The Committee draws attention to continuing problems with unconcluded international agreements aimed at opening up defence markets, in particular the agreement with the US which is delayed in Congress, and risks conveying an adverse message about the nature of the UK-US relationship. A third strand of this report is on managing risk.Two projects - Nimrod and Astute submarine - had to be renegotiated because of poorly managed risk; the MoD's extra financial contributions are seen as necessary to rescue the projects, but should not exceed the amount by which BAE Systems had under-priced risk.A third major project, the Future Carrier Programme, is managed differently, in a very complex relationship with two firms previously in competition for the programme. The Committee supports this new approach as a model to avoid the pitfalls of the Astute and Nimrod cases. Finally the Committee reviews the achievements of the Smart Acquisition initiative over its five year history. Success in reducing cost and time overruns is acknowledged, but the Committee expresses reservations about the agility of these procedures to provide equipment for the armed forces when they need it.