Public Administration Select Committee
Show me:
On target? government by measurement fifth report of session 2002-03 Vol. 1 Report, together with formal minutes
House of Commons papers 2002-03 62-I
Sorry, this book is currently not available
Format:

Corporate Author:

Great Britain Parliament House of Commons Public Administration Select Committee

Author:

Wright Tony chairman

Publisher:

TSO (The Stationery Office)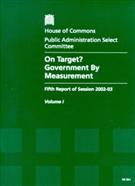 The Committee has examined the policy of using performance measurement to assess the success of public services, which has become known as the 'measurement culture'. Their report focuses on performance targets, including Public Service Agreements (PSAs) and league tables. The Committee recognises that the use of performance measurements is important in order for all organisations to learn and develop, and has led to an increase in accountability and transparency in public services. However, it finds that there is a lack of proper integration between the building of an organisation's capacity through what we call 'the performance culture' and tracking quantitative achievement in the public services through the 'measurement culture'. This has resulted in tension between those charged with centralised responsibility and those front-line staff involved in the delivery of public services. The Committee makes a number of recommendations to better integrate these performance and measurement cultures, including the need for greater local autonomy to establish fewer, more meaningful targets and reform of the way targets are set, allowing greater involvement of professionals and service users. It also calls for a more mature political debate about the measurement culture, based on a better understanding of targets as tools to improve performance.