Health Committee
Show me:
Patient and public involvement in the NHS seventh report of session 2002-2003 report and formal minutes, together with oral evidence
House of Commons papers 2002-03 697
Sorry, this book is currently not available
Format:

Corporate Author:

Great Britain Parliament House of Commons Health Committee

Author:

Hinchliffe David chairman

Publisher:

TSO (The Stationery Office)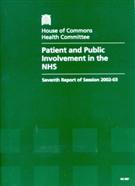 The Committee's report discusses the Government's health reform policies regarding patient and public involvement in the NHS, and in particular the concerns raised by the transition from Community Health Councils (CHCs) to new systems and structures. These include the creation of a national co-ordinating body called the Commission for Patient and Public Involvement in Health (CPPIH), as well as the establishment of Patient Advocacy and Liaison Services (PALS) within each NHS trust and Patient and Public Involvement Forums (PPIFs) to monitor day to day management of health services within each trust, and the new Overview and Security Committees (OSCs) in local authorities. The report's findings include there is an urgent need to collate and publish information on the implementation and functioning of PALS in NHS trusts across the country, as well as on the role of OSCs. The Government should ensure PPIFs are fully established by December 2003 and should extend the operation of CHCs until July 2004, to allow these new bodies sufficient time to develop. The report also expresses its amazement that there are plans for a second, and more radical, overhaul of patient involvement with the establishment of Foundation Hospitals with elected Boards of Governors. The Committee notes that these policies appear to have been formulated in total isolation from each other, and will mean the introduction of two parallel and entirely different systems of NHS patient and public involvement within one year.