Defence Committee
Show me:
Draft Civil Contingencies Bill seventh report of session 2002-03 report, together with formal minutes, oral and written evidence
House of Commons papers 2002-03 557
Sorry, this book is currently not available
Format:

Corporate Author:

Great Britain Parliament House of Commons Defence Committee

Author:

George Bruce chairman

Publisher:

TSO (The Stationery Office)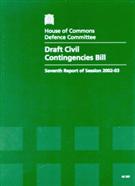 The Committee's report welcomes the publication of the draft Bill (Cm. 5843, ISBN 0101584326) in June 2003, but states that civil contingencies legislation should have been introduced in the current Parliament (as recommended by an earlier Committee report (HCP 518, session 2001-02; ISBN 021500468X). Findings include the need for: the Government to explain why it proposes to create statutory civil protection obligations for local authorities and emergency services but not for itself or regional bodies; clarification of the emergency powers provisions to clearly establish safeguards against misuse of these powers; and further discussion on the provision preventing any special legislative measures being struck down by a court due to incompatibility with the Human Rights Act. The Committee also notes that, although it would not wish the Bill to be delayed any further, insufficient time has been allowed for the public consultation on the draft Bill, and the pre-legislative scrutiny process, to be conducted by a specially appointed Joint Committee, is also having to work to a very tight deadline.