Education & Skills Committee
Show me:
The future of higher education fifth report of session 2002-03 Vol. 1 Report and formal minutes
House of Commons papers 2002-03 425-I
Sorry, this book is currently not available
Format:

Corporate Author:

Great Britain Parliament House of Commons Education and Skills Committee

Author:

Sheerman Barry chairman

Publisher:

TSO (The Stationery Office)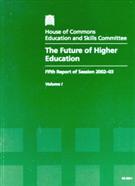 This report examines the Government's proposals for the future of higher education (HE), as set out in the White Paper published in January 2003 (Cm. 5735, 0101573529). The Committee notes that this is an historic opportunity to establish a well funded, high quality HE system accessible to all those who have the requisite talent, but more needs to be done to achieve these aims. Recommendations include: enhanced and better targeted support for students from low-income families (to be funded by the abolition of the undifferentiated interest rate subsidy for student loans which could provide maintenance grants worth as much as £5,000); a broader spread of research funding throughout all universities to maintain the UK's international reputation; more diverse HE funding streams in order to avoid too great a reliance on taxation funding to maintain the sector's independence from government, including that employers who benefit from R&D activities should be required to contribute; the creation of the Office for Fair Access is unnecessary and that responsibility for monitoring fair access to HE opportunities should remain with Higher Education Funding Council for England; urgent action is required to improve the pay and conditions of academic staff, especially those in the early years of the profession; and that although the planned substantial expansion of HE is achievable, the Government's target of a 50 per cent participation rate for the two-year work-focused foundation degrees is unwise.