Education & Skills Committee
Show me:
A level standards third report of session 2002-03 report, together with proceedings of the Committee, minutes of evidence and appendices
House of Commons papers 2002-03 153
Sorry, this book is currently not available
Format:

Corporate Author:

Great Britain Parliament House of Commons Education and Skills Committee

Author:

Sheerman Barry chairman

Publisher:

TSO (The Stationery Office)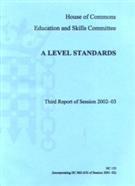 Last summer there was considerable public debate about the marking of A Levels and the integrity of the system, following the introduction of Curriculum 2000. The affair led to the sacking of the chairman of the Qualifications and Curriculum Authority (QCA) and contributed to the resignation of the Secretary of State. This enquiry focused on the role of the QCA, DfES and the relevant awarding bodies. It concluded that there was no manipulation of the examination system but that there were some difficulties caused of the introduction of a new curriculum without a proper pilot stage .The principles underlying Curriculum 2000 were welcomed and there was no reason to make any great changes. It was however recommended that the QCA should be given more independence and should report directly to Parliament.