Scottish Affairs Committee
Show me:
Homeworkers in Scotland and the minimum wage second report of session 2002-03 report, together with proceedings of the Committee and minutes of evidence
House of Commons papers 2002-03 335
Sorry, this book is currently not available
Format:

Corporate Author:

Great Britain Parliament House of Commons Scottish Affairs Committee

Author:

Adams Irene chairman

Publisher:

TSO (The Stationery Office)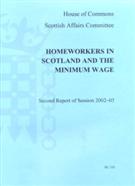 The Committee's inquiry seeks to examine whether low paid homeworkers in Scotland are getting their statutory right to the Minimum Wage and to assess levels of awareness amongst employees and compliance by employers. Their findings include that there is a lack of accurate and reliable statistics about homeworkers, but the available evidence indicates that a sizeable proportion of industrial homeworkers receive less than the National Minimum Wage. The current confusion about the employment status of industrial homeworkers needs to be addressed, in order to ensure sub-contracting arrangements cannot be used to conceal where responsibility lies. The Department of Trade and Industry and the Inland Revenue should jointly develop more detailed, accurate data concerning homeworkers in the UK, with care taken to separate the various categories of homeworker to avoid confusion between the affluent and the underpaid. Initially, this could involve adjustments to the annual Labour Force Survey, with other sources being the new tax credits system and the 2001 Census figures.
Find similar publications here: