Welsh Affairs Committee
Show me:
The primary legislative process as it affects Wales fourth report of session 2002-03 report, together with the proceedings of the Committee, minutes of evidence and appendices
House of Commons papers 2002-03 79
Sorry, this book is currently not available
Format:

Corporate Author:

Great Britain Parliament House of Commons Welsh Affairs Committee

Author:

Jones Martyn chairman

Publisher:

TSO (The Stationery Office)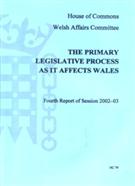 A key factor in the success of Welsh devolution will be the effectiveness of the legislative relationship between the UK Parliament and the Welsh Assembly. Westminster retains exclusive power to pass primary legislation for Wales and to grant the Assembly specific powers to make secondary legislation. The Committee's report reviews this relationship and assesses whether improvements could be made. Recommendations include: the need for greater consistency in the conferral of additional powers to the Assembly to aid scrutiny procedures, and that the Wales Office should provide funding for Wales Legislation Online, the only current comprehensive database on the powers of the National Assembly. To aid effective consultation, the Government should consult the Assembly on legislation in any of the devolved fields, even if the legislation has no direct impact on Assembly powers. The Committee states its intention to submit proposals for formal joint meetings between House of Commons Select Committees and those of the Assembly to explore how Assembly members can make their views formally known at Westminster on legislation that will directly affect Wales; and also recommends that the Government set out its position on the Rawlings Principles.