Education & Skills Committee
Show me:
Secondary education visits to Birmingham and Auckland second report of session 2002-03 report, together with proceedings of the Committee and minutes of evidence
House of Commons papers 2002-03 486
Sorry, this book is currently not available
Format:

Corporate Author:

Great Britain Parliament House of Commons Education and Skills Committee

Author:

Sheerman Barry chairman

Publisher:

TSO (The Stationery Office)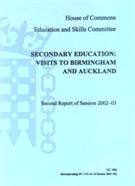 As part of the Committee's inquiry into aspects of secondary education (including diversity of provision, pupil achievement, teacher recruitment and retention, and schools admissions), the Committee visited two cities (Birmingham in the UK, and Auckland, New Zealand) in order to draw useful comparisons between approaches used. Their report highlights key observations drawn from the visits and outlines the approach the Committee will take for its inquiry. It includes the oral evidence taken by the Committee in Birmingham, as well as the programme for both visits. Overall, the Committee found many common themes in the challenges facing educators in both cities, and concludes that much can be learned from sharing experience of initiatives and policies aimed at raising standards of achievement in schools in the UK and in New Zealand.