Culture, Media & Sport Committee
Show me:
National museums and galleries: funding and free admission first report of session 2002-03 report, together with proceedings of the Committee, minutes of evidence and appendices
House of Commons papers 2002-03 85
Format:

Corporate Author:

Great Britain Parliament House of Commons Culture, Media and Sport Committee

Author:

Kaufman Gerald chairman

Publisher:

TSO (The Stationery Office)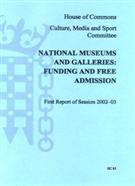 The Committee's report welcomes the policy decision taken in December 2001 to end admission charges to all the national museums and galleries funded by the Government, and notes this has led to increased visitor numbers and changed the way people use these valuable resources. However, it recommends further consultation on how to attract significant numbers of new visitors from the widest range of socioeconomic and ethnic groups. The Committee calls on the Government to commit itself to adequate, realistic and responsive funding of its museums and galleries over the longer term, in order to ensure these institutions are not forced to reintroduce admission charges to cope with financial pressures.
Find similar publications here: