Standards & Privileges Committee
Show me:
A new code of conduct and guide to the rules ninth report of session 2001-02 report, together with proceedings of the Committee
House of Commons papers 2001-02 763
Sorry, this book is currently not available
Format:

Corporate Author:

Great Britain Parliament House of Commons Committee on Standards and Privileges

Author:

Young George Sir chairman

Publisher:

TSO (The Stationery Office)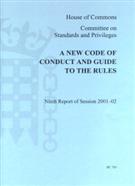 A previous report from the Committee on Standards and Privileges (HCP 267, Session 2000-01; ISBN 0102189013) recommended a number of changes to the rules regarding the conduct of MPs. This report by the Committee contains further proposals for reform which it is hoped will simplify and clarify the rules in line with the requirements of the Electoral Commission. Recommendations include: 1) changes to the 'advocacy rule' which prohibits MPs from lobbying in parliamentary proceedings or during their constituency business for an organisation from which the MP receives financial benefit or consideration; and 2) the minimum level for the registration of financial interests to be set at one per cent of the current MP's salary (that is £550). An annex to the report contains a revised version of the 'Code of Conduct' and 'Guide to the Rules' incorporating the Committee's recommendations, which is commended to Parliament.