Civil Aviation Authority (CAA)
Show me:
CAP 747 Mandatory Requirements for Airworthiness - Consolidated Edition July 2017
Author:

Civil Aviation Authority (CAA)

Publisher:

TSO (The Stationery Office)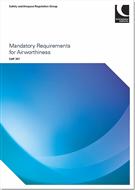 The formation of the European Aviation Safety Agency (EASA) and the implementation of the associated European legislation has changed the responsibilities and procedures for the regulation of airworthiness. This CAP 747 is the means by which airworthiness requirements made mandatory by the Civil Aviation Authority (CAA) are notified.
This publication also provides an explanation of the applicability of the mandatory requirements for airworthiness that are issued by EASA and other organisations and indicates where those requirements may be found.
Please note: when you order this CAA publication your binder and text will be dispatched from separate locations - your order will therefore arrive in two separate parcels/deliveries.
Receive regular updates of CAP 747 by setting up a standing order to this publication. For more information please contact our dedicated CAA Customer Services Team on +44 (0)333 200 2412 .
References to EU regulation or EU websites in our guidance will not be an accurate description of your obligations or rights under UK law. Read more about the UK/EU transition on the CAA website (opens in new window).
| | | | |
| --- | --- | --- | --- |
| Extent | 392 pages | ISBN | 9780117929159 |
| Size | N/A | Price | £33.00 |
| Format | Loose leaf with spine card and binder | Published | 21 Jul 2017 |
| Availability | Out of Print: but may be available to order | Delivery | Delivery options and charges |
Find similar publications here: