Civil Aviation Authority (CAA)
Show me:
CAP 804: Flight Crew Licensing: Mandatory Requirements, Policy and Guidance
Consolidated April 2015
Author:

Civil Aviation Authority (CAA)

Publisher:

TSO (The Stationery Office)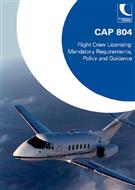 CAP 804 is a reference document for training organisations, airfield operators and for the associations involved in General Aviation activities in the UK. CAP 804 documents the requirements, policy and guidance material that apply to Flight Crew Licences issued by the United Kingdom Civil Aviation Authority and to the training for those licences. CAP 804 also includes the rules set out in the European Aircrew Regulation pertaining to pilot licences that are issued by the CAA under European legislation.
CAP 804 is compiled by CAA Personnel Licensing for pilots and those intending to become pilots, for training organisations and operators. Part I is arranged into nine sections:
Section 1 - General Information

Section 2 - Overview of Pilot Licences and Training

Section 3 - Licensing Administration

Section 4 - EASA Licences - Guide to Part FCL

Section 5 - UK National Licences

Section 6 - Radio Licences

Section 7 - Legal Basis for Flight Crew Licensing

Section 8 - Licensing Action and Regulation Enforcement

Section 9 - Exemption
Find similar publications here: