Civil Aviation Authority (CAA)
Show me:
CAP 408 Aircraft Log Book (MTWA exceeding 2730 kg) - 3rd Edition (corrected version)
Author:

Civil Aviation Authority (CAA)

Publisher:

TSO (The Stationery Office)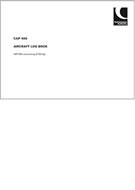 This log book enables aircraft owners/operators to fulfil the continuing airworthiness record keeping requirements of the Air Navigation Order and, where applicable, the European Commission Regulation (EC) 2042/2003.
This corrected version (issued July 2006) is being sent free of charge to all known recipients of the original, which published in May 2006.
References to EU regulation or EU websites in our guidance will not be an accurate description of your obligations or rights under UK law. Read more about the UK/EU transition on the CAA website (opens in new window).
Find similar publications here: