Fire and Rescue Authority Operational Guidance - Breathing Apparatus
Author:

Department for Communities and Local Government

Publisher:

TSO (The Stationery Office)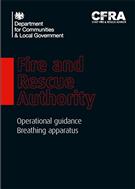 This guidance will provide support for the fire and rescue services in the resolution of incidents involving breathing apparatus. This supersedes Technical Bulletin 1/1997 Breathing Apparatus Command and Control Procedures ISBNs: 9780113411627, 9780113412228, 9780113412624 and the consolidated edition ISBN 9780113412631 .
Fire and rescue service personnel operate in a dynamic and sometimes hazardous environment. The activities covered include incidents involving fire, water, height, road traffic collisions, chemicals, biological hazards, radiation and acts of terrorism.
Operational guidance provides a consistency of approach and forms the basis for common operational practices.