Industry Guide to Good Hygiene Practice: Sandwich Manufacturing (PDF)
Regulation (EC) No 852/2004 on the Hygiene of Foodstuffs - Food Hygiene (England, Scotland, Wales, Northern Ireland) Regulations 2006
Author:

Food Standards Agency

Publisher:

TSO (The Stationery Office)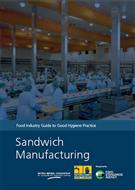 The 'Industry Guide to Good Hygiene Practice: Sandwich Manufacturing' has been produced by the British Sandwich Association in consultation with the industry and enforcement authorities. It provides essential guidance to businesses that manufacture sandwiches on site for retail sale at different premises.
The publication offers advice and guidance on how to comply with Regulation (EC) No 852/2004 on the Hygiene of Foodstuffs and with the Food Hygiene (England) Regulations 2006 and the equivalents in Northern Ireland, Scotland and Wales. The regulations require businesses to look at their operations in a different way, conduct an assessment of the risks to food safety and apply precautions to deal with these risks.
The Industry Guide to Good Hygiene Practice will help sandwich manufacturers to meet their legal obligations, ensure food safety and minimise the risk that their business will be the cause of a customer's complaint or illness.
The guide has been formally recognised by the FSA and local authority enforcement officers are required to take account of its content when carrying out inspections.
Key features:
Background to the legislation

Types of food hazard

Application of food safety management procedures based on the principles of hazard analysis critical control points (HACCP) Requirements of Article 5 Regulation (EC) No 852/2004
Control measures

Structure

Equipment and facilities

Personal hygiene

Supervision, instruction and training

Product handling

The handling of open foods

Date code checking

Cleaning

Waste disposal

Pest control

Transport

Temperature control

Documentation, monitoring and record-keeping

Recognised industry guides

Official inspections of food premises

Product recall and notification requirement

Allergens

Obligations of food handlers

British Sandwich Association recommended microbiological test standards for sandwich type products

British Sandwich Association recommendations for supplying hospitals and vulnerable groups.
Extent
TBC
ISBN
9780117082144
Size
TBC
Price

£10.00

Format
PDF
Published
12 Aug 2013
Availability

Available Immediately
Find similar publications here: