Food Industry Guide to Good Hygiene Practice: Bottled Water (PDF)
Author:

Food Standards Agency (FSA)

Publisher:

TSO (The Stationery Office)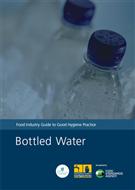 This is part of a series of practical guides for the food industry on how to comply with food hygiene legislation. 'Bottled Water: Food industry guide to good hygiene practice' is specifically intended to assist bottled water producers to meet the legal requirements of Regulation (EC) No. 852/2004 on the hygiene of foodstuffs.
This guide has been officially recognised by the UK Food Standards Agency and agreed with enforcers, industry and other relevant stakeholders. The use of this guidance is optional however, where a food business operator is following the guidance in a recognised Industry Guide, the enforcement authority must take this into account when assessing compliance with the legislation.
'Bottled Water' provides advice on how producers of natural mineral water, spring water and bottled drinking water may comply with EC food law, national implementing legislation and other relevant requirements related to the hygiene of bottled water.
Extent
56 pages
ISBN
9780117082137
Size
401 KB
Price

£10.00

Format
PDF
Published
20 Aug 2013
Availability

Available Immediately
Find similar publications here: