PDCA for ITIL® - downloadable PDF
Author:

Kiran Kumar Pabbathi

Publisher:

TSO (The Stationery Office)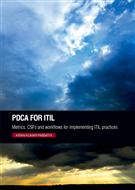 Numerous organisations spend their energy and funding on implementing ITIL practices. Most of them spend their time reinventing a wheel that was already created many times before in previous ITIL expeditions. If you're facing this challenge, you'll be interested in avoiding excessive cost. Although plenty of external guidance is available in the form of ITIL consultancies, you'll need to have a decent idea of what to expect in the course of your own ITIL expedition before you go for it.
This book focuses on that specific target. Drawing on the experience of many ITIL practice implementations, it shows you in a very logical and practical way what to expect when you introduce ITIL to your organisation, or when you increase the number of ITIL practices in your organisation.
The book supports this by offering, in the style of a cookbook, a step-by-step guide to the implementation of individual ITIL practices, offering practical descriptions, terminology, objectives, workflows, CSFs, KPIs and other measures, in a Plan-Do-Check-Act approach. Using the cookbook analogy, it provides you with as many recipes as you are likely to need for composing your own menu. The book's systematic approach means that once you get to grips with implementing one practice, you will be able to apply your newly developed skills to the next one, following the fundamental guidance of ITIL: adapt and adopt.
Your growing understanding of how ITIL works will greatly reduce your external costs, improve the skills of your own staff, and move your organisation to higher maturity levels. You should use this guidance as a great resource for setting up and improving your own practice.
A PDF allows for easy access while you're on the move:
Single user

Non-networkable

Downloadable PDF: searchable with a bookmarking function.
Extent
300 pages
ISBN
9780117082076
Size
5.8Mb
Price

£19.95

Format
Downloadable PDF
Published
01 Aug 2013
Availability

Available Immediately
Find similar publications here: