Managing Pesticides in the Food Chain, 3rd Edition 2013
Guideline 19 - PDF
Publisher:

Campden BRI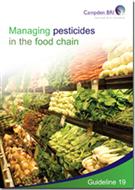 Managing Pesticides in the Food Chain, 3rd Edition 2013 will help farmers, growers, food processors, food manufactures and retailers understand and respond to the legislative and voluntary controls of pesticides in the food chain.
Pesticides are an important part of the food production system - both in improving production efficiency and minimising post-harvest losses, and in ensuring a high quality raw food product. The levels of pesticide residues in food materials is controlled through legislation but, increasingly, farmers, growers and food businesses must also meet changing customer expectations for reducing pesticide use and residues.
This Guideline details the components of a pesticide risk management system and explains how to implement these in practice, including record keeping and management. The appendices provide useful data from pesticide monitoring activities by industry and government agencies.
Key features
Introduction

Pesticide control mechanisms

What are the hazards and possible causes?

Which pesticide controls are appropriate?

How to provide evidence

Establishing a risk management procedure

References

Sources of information

Appendix 1-4
Extent
77 pages
ISBN
9780117082014
Size
11.2Mb
Price

£135.00

Format
PDF
Published
09 May 2013
Availability

Available Immediately
Find similar publications here: