The Arm Book: How to Deal with Upper Limb Pain or Injury – Based on the Latest Medical Research
UK Edition - Single Copy
Author:

Dr Nicholas Kendall, Dr Lisa Birrell, Mr Chris Bainbridge, Mr Brian Pearce, Prof Kim Burton

Publisher:

TSO (The Stationery Office)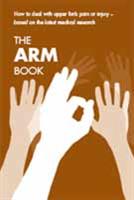 This booklet provides evidence-based information for people with common upper limb problems. 'The Arm Book' outlines why people suffer from arm pain and gives advice on how best to recover, advising on what is best and safe to do.
Based on scientific evidence this publication answers important questions and includes the very latest thinking on the subject. It is aimed at sufferers of arm pain as well as employers, doctors and therapists for handing out to their patients. It aims to improve arm problems and have a positive influence on health and vocational outcomes.
For orders of ten or more copies please place your order against ISBN 9780117069138 (see below). Bulk rate discounts apply. Alternatively please call TSO Customer Services on +44 (0)333 200 2425 or e-mail customer.services@tso.co.uk.
Branded editions are now available, click here to find out more.
Key features:
Provides arm facts and myths

Details the causes of arm pain and explains exercises to relieve it

Written by a multi-disciplinary team of researchers

Also available in packs of ten (see below)
Find similar publications here: