Get Back Active - The Back Book DVD
UK Edition
Publisher:

TSO (The Stationery Office)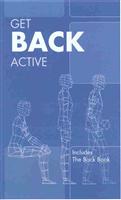 The 'Get Back Active DVD' is based upon the 'The Back Book' which contains practical advice on how to deal with back problems and stay active. The information it provides is based on the latest research and has been shown to be effective in clinical trials. It is suitable for anyone suffering back pain, and doctors or therapists can use it to help patients cope with early management of symptoms.
Get Back Active delivers evidence-based advice on overcoming back pain through a mixture of activities and positive thinking. Containing all the latest thinking on the subject of back pain, this DVD could be given to sufferers by their doctor or therapist, or shown to employees by companies as part of their health and safety training. It is linked with the Royal College of General Practitioners and the Faculty of Occupational Medicine guidelines for coping with back pain.
Key features:
Provides back facts, describes the causes and features exercises to relieve back pain

Visually exciting, authoritative advice in practical situations.
Sample DVD clip: To view a sample clip of this DVD, click here - 'Get Back Active DVD - 15MB'. This clip can be viewed using Windows Media Player, MPlayer, RealPlayer, or similar.
'The Back Book' is available separately as a single copy or in packs of 10 and a video version is also available. Please see below for details.
Find similar publications here: