Non-Domestic Heating, Cooling and Ventilation Compliance Guide
Author:

TSO

Publisher:

TSO (The Stationery Office)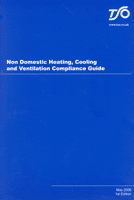 This 'Non-Domestic Heating, Cooling and Ventilation Compliance Guide' provides guidance on the means of complying with the requirements of Part L for conventional space heating systems, hot water systems, cooling and ventilation systems in non-domestic buildings. Its sets out the minimum provisions for:
efficiency of the plant that generates heat, hot water or cooling;

controls to ensure that the system is not generating heat, hot water or cooling unnecessarily or excessively;

other factors affecting the safety or energy efficiency of the system;

insulation of pipes and ducts serving space heating, hot water and cooling systems; and

acceptable specific fan power ratings for fans serving air distribution systems.
The guide also provides a set of additional measures which may improve the efficiency of the plant: these are non-prescriptive may be either required or optional depending on the type of plant.
Find similar publications here: