Driver & Vehicle Standards Agency
Show me:
Highway Code Extra - the Official Rules and Signs
2022 edition
Author:

Department for Transport (DfT)

Publisher:

TSO (The Stationery Office)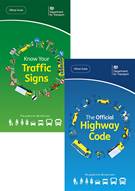 This set includes The Official Highway Code 2022 edition and Know Your Traffic Signs.
The Official Highway Code
Keep safe, make sure you're up to date with the latest rules of the road, and avoid penalties and fines by getting your copy of The Official Highway Code.
New rules on the hierarchy of road users - This means the introduction of new responsibilities towards more vulnerable road users, to keep them safe on the road. These are known as the 'H' rules

Junctions - You should give way to pedestrians crossing or waiting to cross a road that you're turning into

Parking Laws - New rules around parking on pavements

Source material - The Official Highway Code remains one of the source materials for all theory tests
Know Your Traffic Signs
This handy reference title illustrates and explains the vast majority of traffic signs that a road user is likely to encounter.
This book is the source material for many of the theory test questions

Important information for ALL road users, whether you drive a car, lorry, bus or tractor, ride a motorcycle, bicycle or horse, or just use your own two legs

Know Your Traffic Signs complements The Official Highway Code, giving you full details of the UK's road signs.