The Official DVSA Guide to Better Driving, The Official DVSA Guide to Driving - the essential skills and The Official Highway Code 2015 edition
Paperback pack
Author:

Driver and Vehicle Standards Agency (DVSA)

Publisher:

TSO (The Stationery Office)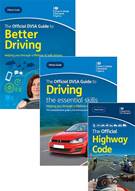 Buy this triple pack, including The Official DVSA Guide to Better Driving, The Official DVSA Guide to Driving - the essential skills and The Official Highway Code, and save £6.49!
Better Driving
Does driving ever make you feel nervous, anxious or angry? Do you get frustrated with other road users? Do you want to know how to beat stress and enjoy your time behind the wheel?
If so, you'll find Better Driving packed with practical strategies to help. This official DVSA guide will give you the tools you need to drive with confidence.
Watch the Official DVSA Guide to Better Driving video
Stay safe - understand how your thoughts and feelings can affect your behaviour behind the wheel

Boost your confidence - advice on coping with everyday situations such as roundabouts, motorways, junctions and bad weather

Enjoy your driving - learn how to evaluate your performance and become a better driver

Keep legal - up-to-date information on speed limits, drink and drug driving, mobile phones and more
Driving - the essential skills
Whether you're a learner, an experienced driver or a driving instructor, The Official DVSA Guide to Driving - the essential skills is packed full of advice that will help you stay safe on our roads.
This comprehensive guide is THE industry standard driving manual. Learn how to get the most enjoyment from your driving with the correct skills, attitude and behaviour.
Sharpen your driving skills - information on essential driving techniques, including overtaking safely, using limit points, defensive driving and manoeuvring

In all conditions - expert advice on driving safely and confidently at night, in adverse weather conditions, on motorways and through roadworks

Pass your theory test - this book is a key source material for the car and driving-instructor theory tests. Study it for complete test preparation

Up-to-date information - on vehicle maintenance and security, ecosafe driving, smart motorways and much more

New features - hints and tips for a lifetime of safe driving; ideal for refreshing your knowledge before and after your test
The Official Highway Code
Keep safe, make sure you're up to date with the latest rules of the road, and avoid penalties and fines by getting your copy of The Official Highway Code.
All the rules of the road, including legal requirements

Advice on road safety and best practice for ALL road users, including car, van, lorry, bus and tractor drivers, motorcycle, bicycle and horse riders, and pedestrians

This book is the source material for many of the theory test questions. Buy it for complete test preparation!

Includes advice on motor-vehicle licensing and documentation, vehicle maintenance, first aid on the road, and a safety code for new drivers

References to road-traffic legislation and full details of the penalties for motoring offences

Emphasises courtesy, attitude and awareness
Please note: these books will be packed individually in our warehouse; they are not physically packaged together.