Driver & Vehicle Standards Agency
Show me:
The Official DVSA Guide to Better Driving
Paperback
Author:

Dr. Lisa Dorn

Publisher:

TSO (The Stationery Office)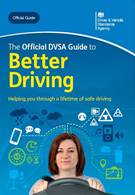 Does driving ever make you feel nervous, anxious or angry? Do you get frustrated with other road users? Do you want to know how to beat stress and enjoy your time behind the wheel?
Four reasons to buy it:
1. Stay safe - understand how your thoughts and feelings can affect your behaviour behind the wheel
2. Boost your confidence - advice on coping with everyday situations such as roundabouts, motorways, junctions and bad weather
3. Enjoy your driving - learn how to evaluate your performance and become a better driver
4. Keep legal - up-to-date information on speed limits, drink and drug driving, mobile phones and more
Watch the DVSA Official Guide to Better Driving video
About the author:
Dr Lisa Dorn is an Associate Professor in Driver Behaviour at Cranfield University and President of the International Association of Applied Psychology - Traffic and Transport Psychology Division. She is also an Associate Fellow of the British Psychological Society.
She has edited 17 books and published dozens of research papers aimed at improving driver behaviour.