The Official DVSA Theory Test for Approved Driving Instructors
DVD-ROM pack
Author:

Driver & Vehicle Standards Agency (DVSA)

Publisher:

TSO (The Stationery Office)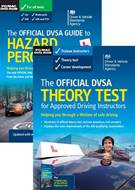 Please note: We're aware that some Apple Mac users running MacOS Catalina (version 10.15) and MacOS Big Sur (version 11) are experiencing problems using this product. We advise you to use the Safe Driving for Life website (opens new window) instead for the best user experience.
Get ready to pass your approved driving instructor (ADI) theory test first time with this exclusive software pack. Includes The Official DVSA Theory Test for Approved Driving Instructors DVD-ROM and The Official DVSA Guide to Hazard Perception DVD-ROM. Save £5.99 compared with buying the titles separately.
Five reasons to buy it:
1. Practice questions - includes hundreds of official DVSA theory test revision questions, all of which have been updated and rewritten to make them easier to understand
2. Learn from the experts - DVSA, the people who set the tests. The questions are very similar to the ones you'll get on your actual test
3. Career development - lots of information about becoming a driving instructor and growing your career. The three parts of the ADI qualifying examination are explained in detail
4. Clearly track your progress - it's easy to see how much you've completed and how you're doing, so you know when you're ready to pass!
5. Improve your hazard perception skills - packed with over 100 high-quality, interactive hazard perception clips, and a helpful study section to help you learn the theory
And there's more:
Extra help to understand the answers - each question includes references to the official source material and recommended reading, where you can learn more. Highway Code references link directly to a digital version of The Official Highway Code, which is included as a free extra

Explains the latest changes to the test - the study section has been fully updated and explains the changes made to parts 2 and 3 of the ADI qualifying examination