Rheolau'r Ffordd Fawr - rhifyn newydd 2015
Paperback
Author:

Yr Adran Drafnidiaeth (DfT)/Asiantaeth Safonau Gyrwyr a Cherbydau

Publisher:

TSO (The Stationery Office)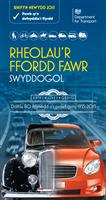 Cadwch yn ddiogel, gwenwch yn si?r eich bod yn ymwybodol o reolau diweddaraf y ffordd, ac osgoi cosbau a dirwyon trwy gael eich copi o'r rhifyn newydd hwn o Reolau'r Ffordd Fawr.
Mae'r prawf gyrru yn cyrraedd ei 80fed pen-blwydd yn 2015, ac mae'r rhifyn coffaol hwn o Reolau'r Ffordd Fawr yn ddathliad o'r garreg filltir honno yn niogelwch ffyrdd Prydain.
Wedi ei ddiweddaru ar gyfer 2015, mae Rheolau'r Ffordd Fawr yn waith darllen allweddol ar gyfer defnyddwyr ffyrdd yng Nghymru, Lloegr a'r Alban, gan ddarparu'r rheolau diweddaraf ar gyfer y ffyrdd ac arwyddion traffig. Mae gan bob defnyddiwr ffordd gyfrifoldeb i gadw ei wybodaeth yn gyfredol, felly gwnewch yn si?r eich bod yn gwneud hynny gyda'r rhifyn diweddaraf o'r canllaw cyfeirio defnyddiol hwn.
Pob dydd, ar gyfartaledd, mae pump o bobl yn cael eu lladd a 60 o bobl yn cael eu hanafu'n ddifrifol ar ein ffyrdd. Os ydym am leihau'r ffigurau hyn, mae'n allweddol bod pob defnyddiwr ffordd - gyrwyr, beicwyr modur, beicwyr, marchogwyr a cherddwyr - yn gyfarwydd â'r holl reolau yn Rheolau'r Ffordd Fawr.
Mae'r rhifyn 2015 hwn yn cynnwys y cyfreithiau yfed a gyrru newydd, newidiadau i gyfyngiadau cyflymder cerbydau nwyddau trwm ar ffyrdd sengl a deuol yng Nghymru a Lloegr, terfynau yfed a gyrru newydd yn yr Alban a newidiadau cyffredinol i reolau.
Mae Rheolau'r Ffordd Fawr ar gael ar unrhyw ffurf y gallech ddychmygu, ac yn cael ei ddiweddaru'n rheolaidd i adlewyrchu'r newidiadau mewn technoleg, dealltwriaeth a'r gyfraith. Daliwch ati i'w ddarllen - nid yn unig fel gyrrwr sy'n dysgu, ond fel defnyddiwr ffordd gydol oes cyfrifol - er mwyn i ni allu cadw ffyrdd Prydain ymysg y mwyaf diogel yn y byd.
Watch the DVSA 80th anniversary of the driving test video
Ymhlith y nodweddion mae:
rheolau diweddaraf y ffordd, yn cynnwys y cyfreithiau y dylech eu bodloni er mwyn osgoi dirwyon, pwyntiau cosb, gwaharddiadau a hyd yn oed carchar

cyfeiriadau at ddeddfwriaeth y mae troseddau yn seiliedig arnynt

cyngor ar ddiogelwch ffordd ac arfer da

deunydd sy'n sail i nifer o gwestiynau'r prawf theori - adnodd allweddol wrth baratoi ar gyfer eich prawf

cyngor i helpu gyrwyr sydd newydd gymhwyso trwy'r 12 mis cyntaf wedi pasio prawf gyrru - y cyfnod o berygl mwyaf

pwyslais ar gwrteisi, agwedd ac ymwybyddiaeth.