Department for Transport
Show me:
Shared use routes for pedestrians and cyclists
Local transport note 1/12
Sorry, this book is currently not available
Corporate Author:

Great Britain Department for Transport

Publisher:

TSO (The Stationery Office)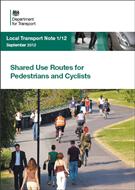 Shared use routes are designed to accommodate the movement of pedestrians and cyclists. This Local Transport Note (LTN) 1/12 focuses on routes within built-up areas where the predominant function of the route is for utility transport, and where use by pedestrians and cyclists is likely to be frequent. Shared use schemes require careful consideration. It provides advice on their planning, design and provision; suggests a scheme development process to help in deciding whether shared use is appropriate for any given situation; stresses the importance of high-quality inclusive design that addresses the needs of all users; places particular emphasis on involving users, residents and other stakeholders in the design process. This LTN 1/12 supersedes LTN 2/86 Shared Use by Cyclists and Pedestrians (ISBN 9780115507830). It should be read in conjunction with LTN 2/08 Cycle Infrastructure Design (DfT, 2008) and Inclusive Mobility - A Guide to Best Practice on Access to Pedestrian and Transport Infrastructure (DfT, 2002).
Find similar publications here: