OECD
Show me:
Code of Practice for the Co-ordination of Street Works and Works for Road Purposes and Related Matters
Third Edition (Revised August 2009)
Author:

Department for Transport (DfT)

Publisher:

TSO (The Stationery Office)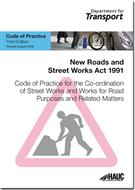 This 2009 edition of the 'Code of Practice for the Co-ordination of Street Works and Works for Road Purposes and Related Matters' is intended to help street authorities carry out their duty to co-ordinate works in the highway, under section 59 of the New Roads and Street Works Act 1991 (NRSWA), and undertakers to fulfil their duty to co-operate in this process, under section 60 of NRSWA.
The Code reflects various changes made to the provisions of NRSWA under the Traffic Management Act 2004 (TMA). The TMA tightens the regulatory framework within which undertakers dig up roads, giving authorities more power to co-ordinate, control and direct works effectively with the aim of minimising disruption.
Street authorities and undertakers must adhere to three key principles:
The need to balance the potentially conflicting interests of road users and undertakers' customers.

The importance of co-operation and regular communication between street authorities and undertakers.

An acknowledgement that works programmes and practices may have to be adjusted to meet the statutory objectives of the co-ordination provisions.
This Code explains how these principles can be made to work in practice.
Significant elements are:
The fact that most notice periods specified in the legislation and regulations are minimum periods. Longer periods of notice should be given, and notice information should be updated, wherever possible.

The central role played by local liaison meetings between street authorities, undertakers and other interested parties.

The importance of the designation of streets subject to special controls. Street authorities should confine designation to cases where it is strictly necessary. Undertakers must respect the objectives of designation when planning and carrying out works.
Everyone working in the highway should take account of the needs of all road users, including those with disabilities - whether they are pedestrians, equestrians, cyclists or drivers - at all stages in the planning and execution of works in the street. This has implications for the timing, method and scheduling of works.