Maritime & Coastguard Agency (MCA)
Show me:
Marine Fuel Sulphur Record Book
Author:

Maritime and Coastguard Agency (MCA)

Publisher:

TSO (The Stationery Office)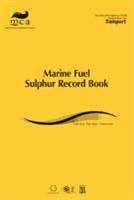 Essential for all vessels who wish to enter an Emission Control Area, at berth in a United Kingdom port, a UK passenger ship operating in UK waters, controlled waters, and any other passenger ship which calls at a port in the UK.
'The Merchant Shipping (Prevention of Air Pollution from Ships) Regulation 2008', as amended, require the master of a ship - to which the regulation apply - to make a record to demonstrate compliance for any ship using separate fuel oils and make a record of any fuel changeover operation.
The master of a ship to which the regulations apply is required to make a record:
In the case of a UK ship, in a log book in the format prescribed in Appendix 6 to Merchant Shipping Notice 1819 (M+F)

In the case of any other ship, in a ship's log book.
Find similar publications here: