Traffic Signs
Show me:
Traffic Signs Manual Chapter 8
Traffic Safety Measures and Signs for Road Works and Temporary Situations
Author:

Great Britain Department of Transport
[?ProductPublisher:?]
Price:
[?DiscountedPrice:?]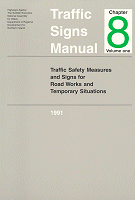 This publication describes the measures needed to be taken to ensure a safe environment on the highway during road works, advice applies to both those carrying out the works and general road users.
Dated 1991 Supersedes TD 14/83 (0115514716) & TA 55/87 (0115514791) & TD 29/87 (0115514031). - Supersedes Clauses 6.1, 6.2, 6.5 & figs. 1-5 of TA 11/81 (0115515291) & also Clauses 7.6, 7.7 of TA 19/81 (0115514635) Contents: Vols. 1 & 2 + copies of "Design manual for roads and bridges" TD 49/97 (0115519041), TD 49/97 Amendment 1 (011552066X), TA 63/97 (0115519211) and TA 64/94 (0115516077)
| | | | |
| --- | --- | --- | --- |
| Extent | 141 pages | Sub. No. | |
| Size | 210 x 297mm | Price | [?DiscountedPrice:?] |
| Format | Paperback | | |
| Availability | [?AvailabilityAlt:?] | Delivery | Delivery options and charges |