Traffic Signs Manual Chapter 3
Regulatory Signs
Author:

Department for Transport, Scottish Executive Development Department and Welsh Assembly Government
[?ProductPublisher:?]
Price:
[?DiscountedPrice:?]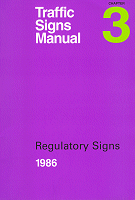 This volume provides official guidance on the correct use of regulatory signs as set out in the Traffic Signs Regulations and is applicable in England, Wales, Scotland and Northern Ireland.
The Traffic Signs Manual contains advice to traffic authorities on the correct use of signs and road markings, in the discharge of their duties under section 122 of the Road Traffic Regulation Act 1984. Mandatory requirements are set out in the current version of the Traffic Signs Regulations and General Directions. Published in 1987.
Please note: This publication has been superseded by 'Traffic Signs Manual Chapter 3 – Regulatory Signs (New Edition)', ISBN 9780115529252, expected to publish August 2008 and available for pre-order below.
| | | | |
| --- | --- | --- | --- |
| Extent | 96 pages | Sub. No. | |
| Size | A4 | Price | [?DiscountedPrice:?] |
| Format | Paperback | | |
| Availability | [?AvailabilityAlt:?] | Delivery | Delivery options and charges |