The Legal System of Scotland
4th Edition
Author:

Derek Manson-Smith

Publisher:

TSO (The Stationery Office)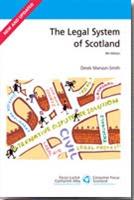 A comprehensive guide to the Scottish legal system written in plain English for non-lawyers. It provides an overview of various aspects of the legal system such as: origins and sources of Scots law; the civil and criminal courts; tribunals; the personnel of the law; administration of the Scottish legal system; legal aid and protection of the public.
The book was originally published in 1997 and this fourth edition has been updated to take account of changes in the law and legal system since February 2004. These include changes to the structure of the criminal courts, increases in sheriff court limits and new complaints handling structures relating to solicitors and advocates. There is also a new chapter on alternative dispute resolution.
'This book is designed to provide a simple guide to our legal system to equip the reader with the general understanding of how things work.' Graeme Millar, Chairman of the Scottish Consumer Council.
'I have tried to provide an accurate reflection of the legal system of Scotland as it stood at 30 June 2008.' Derek Manson-Smith.
Find similar publications here: