Police and Criminal Evidence Act 1984 (PACE) - CODE A
Revised Code of Practice for the exercise by: Police Officers of Statutory Powers of stop and search Police Officers and Police Staff of requirements to public encounters
Author:

Home Office

Publisher:

TSO (The Stationery Office)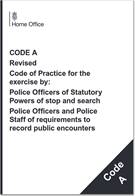 The Police and Criminal Evidence Act (PACE) and its Codes of Practice are a vital part of the legislative framework that lays out police powers for combating crime, to the recording requirements for stop and account and stop and search.
Code A explains the exercise by police officers of statutory powers to search a person or a vehicle without first making an arrest. It also outlines the need for a police officer to make a record of a stop or encounter.
This Code of Practice must be readily available at all police stations for consultation by police officers, police staff, detained persons and members of the public and applies to any search by a police officer, and the recording of public encounters taking place after 00.00 on 19 March 2015. The notes for guidance included are not provisions of this code, but are guidance to police officers and others about its application and interpretation.
This title supersedes ISBN 9780108512766, published 21 October 2013, Police and Criminal Evidence Act 1984 (PACE) - CODE A - Revised 2013 Code of Practice for the Exercise by: Police Officers of Statutory Powers of Stop and Search Police Officers and Police Staff of Requirements to Record Public Encounters.
Find similar publications here: