Generic Risk Assessment 5.7 – Explosives
Version 2 – Part 1
Author:

Chief Fire and Rescue Advisers Unit – Communities and Local Government

Publisher:

TSO (The Stationery Office)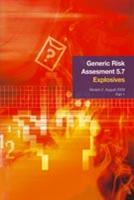 Appropriate response to incidents is crucial for all fire and rescue services. This new Generic Risk Assessment (GRA) considers the hazards, risks and control measures for operational incidents where explosives, which include fireworks, are or are suspected to be involved.
This GRA does not cover explosive devices where their intentional use is to cause harm and destruction such as acts of terrorism. However, the principles detailed within this document would still apply, subject to information and dynamic risk assessment.
This clearly written guide acts as an aide mémoire to fire service personnel, which can be used en route to incidents, and also details key control measures for explosive incidents as well as key considerations for all personnel involved in the incident.
Contents:
Aide Mémoire

Pre-arrival

On arrival

As the Incident Develops.

Key considerations for all personnel

Scope

Introduction

Hazards and risks.

Key control measures

Information gathering

Operational Pre-planning and information gathering.

Annexes and Bibliography.
This publication is a must have for all fire and rescue services and managers, as well as all those involved in incident response across all of the emergency services.
› More Generic Risk Assessment guides and the Fire Service Manual series
Find similar publications here: