Petrochemical Incidents
Fire and Rescue Service Manual - Volume 2: Fire Service Operations
Author:

HM Fire Service Inspectorate

Publisher:

TSO (The Stationery Office)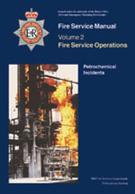 'Petrochemical Incidents: Fire and Rescue Service Manual - Volume 2: Fire Service Operations' deals specifically with the dangers that can arise when dealing with petrochemical fires and gives readers the background knowledge needed. The text is supported in the publication with visual information, both in the form of pictures and charts.
Contents include:
Characteristics of mineral oils

Refining process

Storage tanks

Layout of refineries

Fire protection and emergency planning

Fighting petrochemical fires

Liquified natural gas

Liquified petroleum gas.