ITIL® 4 Master Pack: Core Guidance and Practice Guides
PDF & Paperback
Language:

English

Format:

Pack (6 vols 1 PDF)

Author:

AXELOS

Publisher:

TSO (The Stationery Office)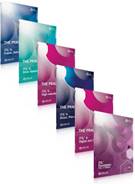 ITIL 4 Master Pack: The Practice Guides includes all examinable practices for the complete ITIL 4 Higher Level journey.
The audience ranges from those who are responsible for managing IT-enabled products and services, to those who wish to progress from ITIL 4 Foundation, to seasoned professionals familiar with earlier versions of ITIL and other sources of industry best practice who wish to transition across to ITIL 4 and become an ITIL 4 Master.
Delegates must undertake all four modules of ; 'Create, Deliver and Support', 'Direct, Plan and Improve', 'Drive Stakeholder Value', 'High-velocity IT' to become an ITIL 4 Managing Professional, and both modules of 'Direct Plan and Improve' and 'Digital and IT Strategy' to become an ITIL 4 Strategic Leader.
All modules have a core guidance, and aligned examinable practices to ensure candidates have everything they need to pass their exams and be equipped with all the tools for achieving day-to-day I.T. best practice.
Key features and included titles
Included ITIL 4 Guidance in Paperback format:

ITIL 4 Foundation

ITIL 4: Create, Deliver and Support

ITIL 4: Drive Stakeholder Value

ITIL 4: High-velocity IT

ITIL 4: Direct, Plan and Improve

ITIL 4: Digital and IT Strategy
Included Examinable Practices in PDF format (34 x Practice Guides + User Guide):

ITIL 4: Create, Deliver and Support: The Practice Guides Pack

ITIL 4: Drive Stakeholder Value: The Practice Guide Pack

ITIL 4: High-velocity IT: The Practice Guide Pack

ITIL 4: Direct, Plan and Improve: The Practice Guide Pack

ITIL 4: Digital and IT Strategy: The Practice Guide Pack
Alternative formats
Extent
34 x PDFs, 6 x Books
ISBN
9780113317448
Size
787Kb (average), 280 x 216mm (x 6)
Price

£700.00

Format
PDF and Paperback
Published
07 Aug 2020
Availability

Available Immediately
Find similar publications here: