Whaling for Beginners Books 1 & 2 Pack
Paperback
Language:

English

Format:

paperback

Author:

AXELOS, Jerome Vincent

Publisher:

TSO (The Stationery Office)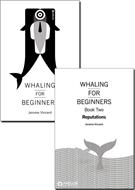 Take advantage of buying both titles in the Whaling for Beginners series with the pack deal saving you over 30% of the RRP.
'Whaling for Beginners' follows Jim's journey as he realizes just how close to home cyber-attacks can strike and how broad the hackers' ambitions are. As his company's very survival hangs in the balance, it emerges that the ultimate target of the whaling attack is the CFO of his biggest client - and one of his oldest friends. Out of nowhere, hard-won reputations, hundreds of jobs and millions of dollars are all suddenly at risk.
These fictional accounts are written by Jerome Vincent who has been a script and copy writer for many years and has written widely about corporate technology issues for many of the world's leading multinationals.
Hackers are hunting 'whales' in the boardroom. They attack, steal, and ruin reputations. This fictional series brings to life the real situation that could be faced by any CEO in any business organization. From the moment when the breach occurs this can have a devastating financial impact and leave reputations hanging in the balance for years to come.
Alternative formats
Find similar publications here: