MSP® Survival Guide For Senior Responsible Owners
Paperback
Language:

English

Format:

paperback

Author:

Rod Sowden, Nick Carter

Publisher:

TSO (The Stationery Office)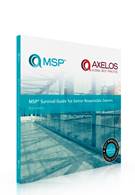 MSP Survival Guide for Senior Responsible Owners (SRO's) focuses on what a leader should do. It covers the topics in the MSP guide, but provides you with pointers rather than detail. Whether you are new to programme management or programme sponsorship, you will find something of use with this guide.
The publication focuses on translating the MSP framework into reality for the SRO's recognizing the extreme pressures they live with and help them to bridge the gap between the expertise that has taken them to the top of their profession and what they need to do to excel as an SRO.
Key Features
Simple, direct and practical recommendations for SRO's written by SRO experts who offer practical and easy to read guidance

Includes a chapter, introducing programme management and why the SRO role is so important

Every chapter has "Magnificent Seven" tips, so if you read no further than these, you will benefit from key practical points

Explains the nature of SRO relationships with the other key roles and how their responsibilities develop.
Alternative formats
This is the third title in the MSP Survival Guide series and compliments Survival Guide for Programme Managers and Survival Guide for Business Change Management. These titles include specific techniques for each of the roles, whereas this guide will focus more on hint and tips to match an individuals leadership qualities to the processes of programme delivery.
"An excellently written manual brimming with high-return, SRO-tuned thinking and advice. A manual that demystifies programme management for the SRO and how MSP works to immediately reduce SRO time, costs, and risks. A must-have manual on the desk of all SROs." Grant Avery, MBA (Distinction), PMP, author "Project Management, Denial, and the Death Zone"
Find similar publications here: