MSP® Survival Guide for Programme Managers
PDF
Language:

English

Format:

PDF

Author:

Rod Sowden, Geof Leigh

Publisher:

TSO (The Stationery Office)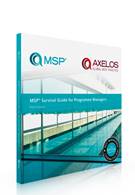 This guide specifically addresses responsibilities within the programme. MSP Survival Guide for Programme Managers helps to explain what you need to do and why, then provides guidance on how to do it using real-life examples. In particular, it focuses on developing and implementing the processes and supporting techniques that are needed to control the programme.
Key Features
Based on the responsibilities of the programme manager

Defines the roles of the people in programme management

Each topic is correlated to relevant text from MSP, providing hints tips and examples throughout

Includes governance, benefits, risk, planning, leadership and stakeholder management and setting strategies

Provides specific practical advice on how to be effective, something the main MSP title cannot

Written by experienced authors in Rod Sowden, lead author of Managing Successful Programmes and Geof Leigh, who wrote the programme management maturity model for the latest version of P3M3
Written simply, this title brings to life the reality of delivering a programme using MSP. Extracts from the main MSP manual are used to explain key concepts, followed by a description of how this applies to your role.
This Survival Guide is part of a series that has been written for people who have one of the core roles in a programme. Each title provides specific practical advice on how to be effective in a way that the more formal title 'Managing Successful Programmes' (MSP) cannot.
"The guide is especially good at explaining the roles of others within the programme and includes very good level of detail in describing the steps and activities at each stage" Lyn Hicks, Exeter City Council
"Programme management is the least understood discipline that if implemented well can have enormous organisational benefit. If you read this book your confidence in this field and success rate will undoubtedly benefit" Sarah Barns, Change Management Consultant
Extent
204 pages
ISBN
9780113314799
Size
7.3Mb
Price

£45.00

Format
PDF
Published
15 Mar 2016
Availability

Available Immediately
Find similar publications here: