Portfolio, Programme and Project Offices (P3O®) Pocketbook
Paperback
Language:

English

Format:

paperback

Author:

AXELOS

Publisher:

TSO (The Stationery Office)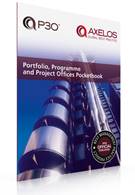 Portfolio, Programme and Project Offices (P3O®) will provide a focal point for defining a balanced portfolio of change and ensuring consistent delivery of programmes and projects across an organization or department.
The publication takes many forms, from a single all-encompassing physical office to a virtual office model made up of a permanent organization portfolio office supported by a permanent hub portfolio office or temporary programme/project offices. The pocketbook introduces the principles, processes and techniques that will enable individuals and organizations to successfully establish develop and maintain appropriate support structures.
Key features
Informing senior management's decision-making on prioritisation, risk management, deployment of resources etc. across the organization to successfully deliver their business objectives (portfolio management)

Identification and realisation of outcomes and benefits via programmes and projects

Delivery of programmes and projects within time, cost and quality constraints.
Alternative formats
Find similar publications here: