British Approved Names 2017: Supplement No. 2
Author:

British Pharmacopoeia Commission

Publisher:

TSO (The Stationery Office)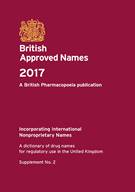 Effective from 01 January 2019, Supplement No. 2 to the 2017 British Approved Names, incorporating international nonproprietary names.
Key features:
A dictionary of drug names for regulatory use in the UK. This edition consolidates the previous edition and supplements with recent additions.
Supplement no. 2 includes:
names for substance-combinations, ions and groups; and

a cross-reference index of British Approved Names and Proprietary Names.
Appendices cover:
(i) structures;
(ii) guidelines for the construction of pharmaceutical trade marks; and
(iii) discontinued substances and products.
Find similar publications here: