Reference Guide to the Mental Health Act 1983 (2015 version)
Author:

Department of Health

Publisher:

TSO (The Stationery Office)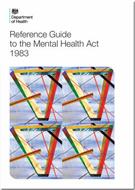 This Reference Guide is intended as a source of reference for people who want to understand the provisions of the Mental Health Act 1983 (the Act) as it is amended by the Mental Health Act 2007. It replaces the Memorandum on Parts I to VI, VIII and X of the Act last published by the Department of Health and the Welsh Office in 1998.
The aim of this Reference Guide is to set out the main provisions of the Act and the associated secondary legislation as they will stand at (include publication date). It is not intended as a complete description of every aspect of the Act and must not be relied on as a definitive statement of the law. It is not a substitute for consulting the Act itself or for taking legal advice. The Code protects patients' rights, informs health practitioners' decisions and ensures that the Mental Health Act is followed. The Code guides people who are detained or treated under the Act, their families and carers about care and support available during a crisis, and what to do if it isn't received.
More information
This Reference Guide is about the Act as it applies in England. There are a number of differences in the way it applies in Wales. This Reference Guide only describes the way the Act applies in Wales where that is directly relevant to its application in England.
Find similar publications here: