A Review of Pre-employment Health Screening of NHS Staff
Author:

NHS Plus

Publisher:

TSO (The Stationery Office)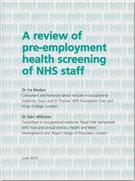 In the NHS, successful job applicants are routinely required to undergo pre-employment health screening (PEHS) before their post is confirmed, though there is poor agreement on why this is done or what it achieves. To address these uncertainties the NHS Plus commission a Delphi study on the purpose of PEHS, and a systematic review of the evidence for its effectiveness, as reported in 'A Review of Pre-employment Health Screening of NHS staff'.
In this report, the two studies and their findings, the current situation with PEHS in the NHS in England and the legislation and national guidance underpinning current activity are described. The economic and ethical issues and the argument for change are also discussed and recommendations are made for the future.
Recommendations made include:
National guidance on PEHS within the NHS should be updated; only jobs with explicit criteria should result in PEHS.

The purpose of any health screening applied must be stated explicitly.

All jobs should be risk assessed and exposures identified before the position is advertised.

All health screenings must comply with current legislation.

Health screenings should take place after confirmation of appointment.

Infection control processes should comply with relevant national guidance.

All new staff should receive an invitation to discuss with the Occupational Health (OH) department any concerns.

Where there is a specific concern about the health of a new employee, a detailed referral to OH should be made.
Find similar publications here: