Sharing Success in Mental Health and Learning Disabilities: The King's Fund's Enhancing the Healing Environment Programme
Improving the Patient Experience
Author:

Department of Health - Estates and Facilities Division

Publisher:

TSO (The Stationery Office)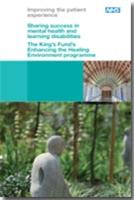 'Improving the Patient Experience' is a series of publications designed to stimulate and inspire all those involved in designing, procuring, developing and maintaining healthcare buildings to look for new and inventive ways to improve the environments for patients and staff alike.
The 'Enhancing the Healing Environment' (EHE) programme was launched in 2000 by HRH The Prince of Wales, President of the King's Fund. The aim of the programme is to encourage and enable local trust teams to work in partnership with service users to improve the environment in which they deliver care.
'Sharing Success in Mental Health and Learning Disabilities' celebrates the successes of 46 NHS trusts in England that took part in The King's Fund's EHE programme. It looks at the staff, service users, carers and supporters who have contributed to the scheme and improved the care environment for some of the most vulnerable people in society.
Through the use of best-practice case studies, advice and guidance from participating organisations this publication highlights how best to implement and manage programmes for change in both new buildings and areas for refurbishment. It outlines how, with relatively small amounts of money, mental health and learning disability environments can be radically improved.
Key Features:
Outlines the background behind the 'Enhancing the Healing Environment' programme.

List and location of all 47 participating trusts.

Directory of the 47 mental health and learning disabilities projects, including total costs and artists and designers involved.

References and useful addresses.
Find similar publications here: