Deprivation of Liberty Safeguards: Code of Practice to Supplement the Main Mental Capacity Act 2005 Code of Practice
Final Edition
Author:

Ministry of Justice / Department of Health

Publisher:

TSO (The Stationery Office)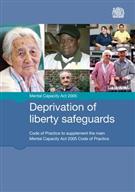 The Mental Capacity Act 2005 provides a statutory framework for acting and making decisions on behalf of individuals who lack the mental capacity to do so for themselves. It introduced a number of laws to protect these individuals and ensure that they are given every chance to make decisions for themselves.
The Act has recently been supplemented with new provisions pertaining to those who need to be accommodated under care and treatment regimes that may have the effect of depriving them of their liberty, but who lack the capacity to consent.
This Code of Practice provides guidance and information for professionals implementing the deprivation of liberty safeguards legislation on a daily basis. In some cases, this will be paid staff, in others, those who have been appointed by law to represent individuals who lack capacity to make decisions for themselves (such as deputies or donees of a Lasting Power of Attorney).
The Code incorporates good practice and demonstrates how the principles of the Act can be applied to those who have been deprived of their liberty for their own safety, or for the safety of others.
This Code covers the following areas:
What are the deprivation of liberty safeguards and why were they introduced?

What is deprivation of liberty?

How and when can deprivation of liberty be applied for and authorised?

What is the assessment process for a standard authorisation of deprivation of liberty?

What should happen once the assessments are complete?

When can urgent authorisations of deprivation of liberty be given?

What is the role of the relevant person's representative?

When should an authorisation be reviewed and what happens when it ends?

What happens if someone thinks a person is being deprived of their liberty without authorisation?

What is the Court of Protection and when can people apply to it?

How will the safeguards be monitored?
A Welsh Language Edition of this Code of Practice is also available (ISBN9780113228256), please see below.