Department of Health HBN's & HTM's
Show me:
Hospital helipads
Health building note HBN 15-03
Sorry, this book is currently not available
Format:

Corporate Author:

Great Britain Department of Health Estates and Facilities Division

Publisher:

TSO (The Stationery Office)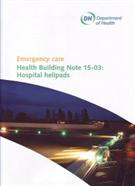 Since the first helicopter ambulance was established in 1987, the service has expanded to cover most of the UK, complementing the service provided by military and coastguard search and rescue helicopters. Helicopter ambulance operations are likely to increase further. They are considered helpful in achieving pre-hospital call-out and care targets in both cities, where congestion affects road ambulances, and in large countryside areas. This Health Building Note aims to describe the requirements and options for new hospital helipads compliant with regulatory requirements, and provides guidance on their operation and management. It also describes the planning considerations, equipment and personnel requirements, and additional support facilities (such as refuelling).
Find similar publications here: